John Legend: It's 'Hard Not To Believe' Michael Jackson's Alleged Victims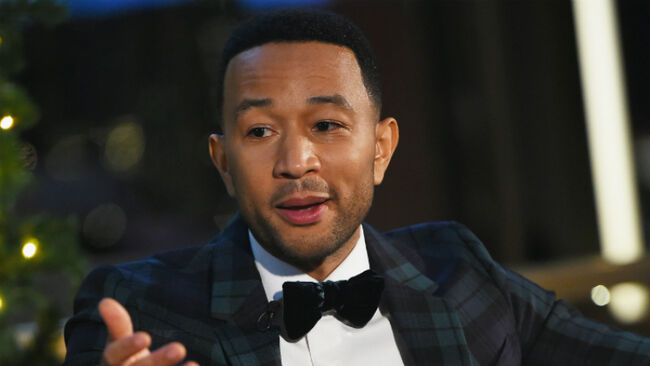 John Legend has a few thoughts on HBO's controversial Leaving Neverland documentary.
After watching the first part of the two-part series, the 40-year-old singer revealed his line of thinking while on Big Boy's Neighborhood, saying the "graphic and heavy" content gave him "nightmares."
"It's a lot. It was hard to watch [...] You watch them and they seem believable," John said of James Safechuck and Wade Robson, who detailed their alleged childhood sexual abuse by Michael Jackson in the documentary. "If what they're saying is true it's really horrific. Obviously, Michael's not here to defend himself, so, we can't hear both sides of the story — we're just hearing one side. But, man it's hard not to believe what they say [because] it's so graphic, and specific."
The "A Good Night" singer added: "It's hard for victims to come out, especially when there's shame. And when you're a seven-year-old boy, and I think these guys consider themselves heterosexual, they're married to women now. Can you imagine, coming out as a grown man having to say you had this kind of sexual affair with a man while you were seven, eight-years-old as a boy? Just imagine the shame a lot of people feel."
Leaving Neverland aired on HBO earlier this month. The two-part documentary was met with tons of criticism as many slammed the network for airing it on the sole grounds the legendary singer is unable to defend himself against their claims.
Michael Jackson's estate denounced the film in a statement even before it was released. "This is yet another lurid production in an outrageous and pathetic attempt to exploit and cash in on Michael Jackson," a rep for the singer's estate said, per Rolling Stone. "Wade Robson and James Safechuck have both testified under oath that Michael never did anything inappropriate toward them. Safechuck and Robson, the latter a self-proclaimed 'master of deception,' filed lawsuits against Michael's estate, asking for millions of dollars. Both lawsuits were dismissed. This so-called 'documentary' is just another rehash of dated and discredited allegations. It's baffling why any credible filmmaker would involve himself with this project."
In January, when news of the film's existence first broke news, the filmmakers behind the documentary released Leaving Neverland's synopsis, which described it as tell-all exposé. "At the height of his stardom, Michael Jackson began long-running relationships with two boys, aged 7 and 10, and their families. Now in their 30s, they tell the story of how they were sexually abused by Jackson, and how they came to terms with it years later." As previously reported, the "Remember the Time" singer was accused of molesting a boy in 1993, however, the case was dropped after an out-of-court settlement was made. Michael was also accused of molestation by two brothers in 2005. However, the criminal case went to trial and he was acquitted.
Photo: Getty Images